2 Park Place
Knaresborough
North Yorkshire
HG5 0ER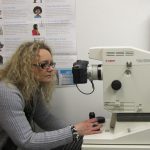 Tracey Kingston White is a qualified Optometrist, member of the College of Optometrists and is registered with the General Optical Council.
Previously known as ophthalmic opticians, optometrists are primary health care specialists trained to examine the eyes to detect defects in vision, signs
of injury, ocular diseases or abnormalities and problems with general health.
Your GP knows about your general health, but your optometrist has studied for years to learn all about your eyes – how you can see best, and what to do if things aren't quite right.
A detailed examination of the eye can reveal conditions such as high blood pressure or diabetes. We make a full health assessment, offer clinical advice and when necessary prescribe spectacles or contact lenses. In addition, we dispense, fit and supply spectacles or contact lenses.
We offer Private or NHS examinations and sight tests to those who are eligible.
Opening Hours
Monday: 9 – 5
Tuesday: 9 – 5
Wednesday: 9 – 5
Thursday: 9 – 6.30
Friday: 9 – 5
Saturday: 9 – 4.30
Sunday: Closed
Hours may vary from time to time.
Website: http://www.kingstonwhiteopticians.co.uk
Phone 1: 01423 867550
Phone 2: 07988 160081